Viral and Retroviral Kit
Viruses are a natural part of the environment. When your body and immune defenses are healthy and robust, you adapt to them easily. However, when you encounter large numbers of viruses and your immune system is weakened, viruses can create considerable problems. Viruses and retroviruses enter into and grow within living cells. These pathogens can cause disease by compromising your immune system and altering the genetic material within your hijacked cells. They can also cause systemic inflammation. Our Viral and Retroviral Kit is designed to target these microbial invaders on multiple levels by providing exceptional immune, drainage, detox, and energy support.
How to Buy
A valid Practitioner account is required for direct purchases from our website. Let's get you registered!
---
Register as a customer with your Patient Direct code, or we can help you find a local practitioner that carries our products.
---
Free Domestic Shipping On Orders Over $300
What's Included
VIRADCHEM BINDER
ViRadChem Binder has the ability to go systemic which makes it an exceptionally effective supplement and a solid foundation for any detox protocol.>
BOWEL MOVER
After years of testing, we have found the ideal ingredients, blended in the proper proportion, that make Bowel Mover a one-of-a-kind, natural constipation reliever. Not a laxative, Bowel Mover is specifically designed to help encourage normal peristalsis while providing you natural, non habit-forming, gentle relief without complications or discomfort.>
KL SUPPORT
This unique blend of natural ingredients is designed to help strengthen and restore your body's natural ability to drain, filter, and detoxify itself through the kidneys and liver. Whether you suffer from heavy metal build-up, metabolizing fat, bladder dysfunction, or chronic infection, KL Support can help flush your body's systems and promote proper kidney and liver function.>
CT-Minerals
With over 69 naturally occurring, plant-derived trace minerals and a dozen amino acids, CT-Minerals supports your overall detox regimen while providing additional building blocks to energize your body.>
MitoATP
MitoATP is formulated to enhance mitochondrial function and upregulate ATP production. MitoATP improves your ability to detoxify while increasing energy systemically.>
Dosing Instructions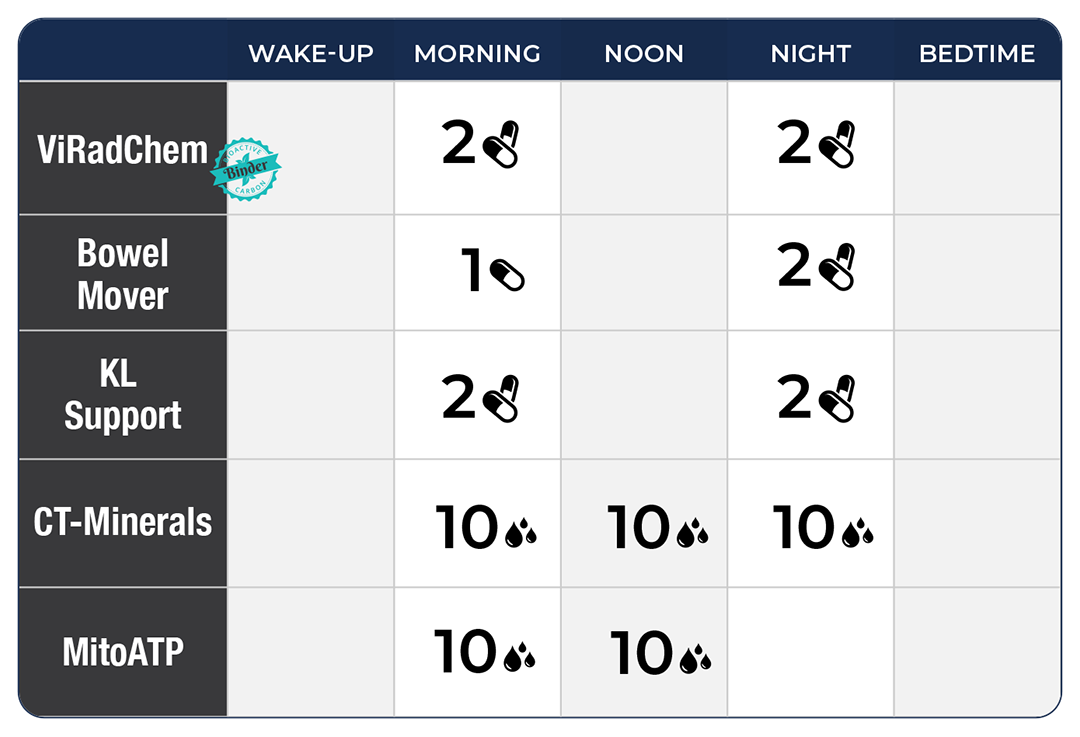 Benefits
This section will be coming Soon
Product FAQs
Your questions will be answered soon!
Free Domestic Shipping
On Orders Over $300.00
Online Training
Instant Access with an Account
Live Support
Call or Email